04 August 2009
Dear friends,

I hope this summer is bringing sunshine into your lives and hearts and that you are getting more than the necessary rest & recreation to face the coming year with presence and joy.

On my end, in the course of the past few months, a number of significant life accidents in my very close environment have alerted me, questioned me, and re-centered me on essentials. First, a very good and close friend who is also an occasional and competent client has been fired from his organization without advance warning, without due respect, without deserved recognition.

In ultimele cateva luni, mai multe accidente de viata care s-au petrecut in mediul meu foarte apropiat ma fac atent, ma fac sa imi pun intrebari si sa ma concentrez asupra esentialului. Mai intai, un foarte bun prieten si care este din cand in cand client ocazional, foarte competent, a fost concediat de catre firma la care lucra. Fara nici o alta vorba, fara avertizare, fara respectul meritat, fara recunostinta cuvenita.
In the course of the past few months, a number of significant life accidents in my very close environment have alerted me, questioned me, and re-centered me on essentials. First, a very good and close friend who is also an occasional and competent client has been fired from his organization without advance warning, without due respect, without deserved recognition.

Very recently, a member of my close family circle had a very serious cardiac alert and almost left this world without the smallest advance indicator. Healthy and vertically present one night, horizontal and on the operation table the following morning. Thank God, he still has an undeniable joie de vivre and an enraged will to fight back and stay amongst us a little more.

Also before summer, in the last few days of May, Geanina and I have had a significant car accident. Water on the freeway, sudden aqua-plan skidding and then a roll into the ditch. Three broken ribs for me, a fractured wrist for my wife, and forget about the car. As I speak, we are well on the way to recovery with a few lingering sequels. To recover, we have already taken a week vacation to Lisboa, that's in Lusitania (or Portugal), and plan another in Catalonia. We are changing our horizons and working to get back into our legendary shape during the summer.

It seems that these different accidents, hurdles, alarm signals and alerts are there to remind us of the importance of our personal engagements, of the value of our lives, of the deeper meaning of our professional choices. But it is so difficult to learn our lessons in pain, in sadness, in fear and anger. Some of us are blessed and tend to our lessons in relative comfort, while the larger majority of humanity often learns in hardship and sorrow. Our occasional life accidents are maybe also there to remind us to stay humble and thankful and sometimes to boot us out of our comfort zones.

Conferences, Articles, Books
And life goes on. On June 4, hardly four days after our accident, with some of my ribs freely floating around and careful not to laugh or cough, I had the pleasure of delivering a conference on team and organization coaching for the SFCoach (French coach association) chapter in Lyon (Central France). I remember that the warm and welcoming public even managed to get me to chuckle with painful reserve.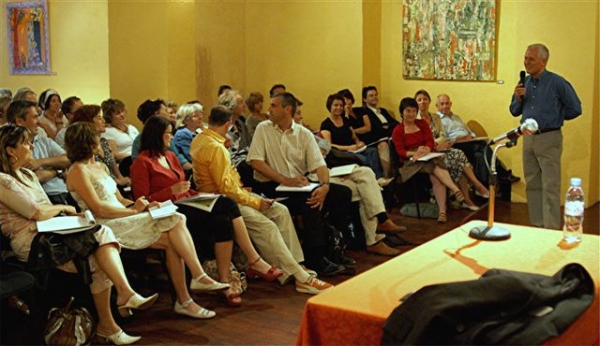 Soon, on August 27 and 28, I will also deliver a workshop in the Paris ICFF (ICF France) summer conference. The theme is : winning and losing games coaches and clients play. Over the years, I have had a few thoughts on the subjects of
some of the potentially darker and manipulative sides of coaching tools and skills, and
some of the lighter and winning dimensions of listed negative games of Transactional Analysis fame.
Although these two themes may superficially seem very different, they actually really meet. They have helped me develop useful insights to better my personal and team coaching experience. I am looking forward to lots sharing and inspiration during this conference. But I must warn you, it's in French.

ADVANCE WARNING: A number of schools and associations related to coaching in Romania are cooperating to offer a conference in November. Save the dates of November 11, 12 or 13 if you can, until further precision. The shared idea is to offer the coaching community a common space to share and exchange their skills competencies, frames of reference and friendship.

In between these two conferences, I am continuing on my writing projects. The current focus of my literary attention is on listening and attentive presence, without intention, for masterful systemic coaching. The theme of listening is not much developed in the coaching community. Attentive presence is, however, the one skill most conducive to developing the type of environment from which sustainable client solutions can almost spontaneously emerge, from the wood-work especially when the coach-client relationship rests on solid foundations. The English version of this extensive article is gradualy becoming available on my website, as I rewrite it in that language.

BOOKS: And you may be unaware that another one of my books has been published in France this late April: Le Dictionaire Commenté du Coaching. A Romanian translation will ready for publication sometime this fall. Should you know one that may be interested, my English texts are still in need of a publisher.

Training and workshops
This fall, the Metasysteme Coaching coach training business is again taking me from Timisoara and Bucharest in Romania to Madrid in Spain to Brussels in Belgium and Hamburg in Germany. The whole range of trainings, workshops and supervision cycles attracts participants from all over Europe, all walks of life, all levels of competency in coaching. In the middle of this European geographic spread, I am still offering the equivalent in French, in Paris.

In Romania, the new English language Coaching Fundamentals training course starts on septembre 23 and 24 in Timisoara and September 28 and 29 in Bucharest. In these, I will gradually integrate the practical results of my reflections on how master coaches create a relational context favorable to emerging client solutions. This training cycle is gaining in power and pertinence, and all participants enthusiastically appreciate.
On October 29 and 30 in Hamburg, Germany, I am delivering a workshop on Delegated Processes. It is organized by Nadja Hebenstreit from Berlin and Christina Quirin in Hamburg. This is also one of Metasysteme's ICF validated ACSTH training courses. It is focused on systemic strategies for team and organization coaching, or how to accompany both executive teams and larger complex systems by coaching groups of over 50 people. Many coaches think that team coaching is limited to moderating team meetings. Don't hesitate to come and develop coaching competencies that will strategically accompany process and interface changes to transform whole organizations.

And as usual, when you are good and ready, the French and English language Metasysteme Supervision Cycle continues on its monthly rhythm in Brussels, Belgium, and there is still ample space to welcome you. I will not mention here the whole range of other coach training and supervision opportunities that I am delivering in France, Spain, Belgium and Germany as the details are available on my websites, and do not hesitate to inform whoever could be interested to participate.
Travel-travel
True to my family script and in keeping with my European commitment, I and we will be travelling extensively this fall. In the next four months, a good third of my work will be in France, mostly in the Paris area. We will go to Romania, Bucharest and Timisoara for the better parts of September and November. The economic slowdown is still very perceptible there, but developing the coaching community and market in the present Romanian context is just as useful as ever.

Other expected trips include one or several hops to Madrid in Spain to develop Metasysteme's particular brand of quality systemic coaching. This development will probably be slow but is very promising. We are careful to choose the right partners, and hopefully, you will hear more about this soon. Other expected hops to Hamburg, Brussels, Barcelona, and maybe to Italy will add variety to our lives. A little more stability will be provided by the small studio we have just bought in Paris, however, so when we will be there, we'll feel more at home than in a hotel.

Conclusions
In Southern France and in the middle of August, it is quite impossible to conclude anything. Now is more of a time to digest, dream, think, evaluate, imagine possibilities and then start all over. Now is definitely not a time for action. For the present, we can still remain uncertain and stay receptive to unexpected options. For a few more weeks, that is. My feeling is that it will soon be time to actively prepare for 2010. This coming year will hopefully reserve us its share of surprises and changes. And it will soon be necessary for us to start laying foundations for that near future very soon. Action plan for September: consolidate short term projects, prepare longer term enterprises, and save open spaces everywhere to allow for the unexpected emerging adventures that add spice to life.

I wish you to be still benefiting from your vacation, and hope to see you soon.

Amicalement (which means friendship-ingly), Alain Cardon