13 June 2011
The Metasysteme Coaching Commnunity of mind
Over the past twenty-five years, my personal and professional quest in systemic strategies has allowed Metasysteme to gradually develop a light, minimalist, practical and very performing individual and team coaching approach. I have shared the results of this practical search into systemic coaching strategies in a number of books (the latest one was published this last February), some of which have been translated and published in several languages. I have also regularly added, corrected, and expanded articles on systemic coaching on the www.metasysteme.eu English language website. I have regularly attempted to share my vision of systemic coaching through comments on Linkedin groups, and on the Facebook « Metasysteme Coaching » group, where I have posted over 100 inspiring videos on the related subjects of systems analysis, quantum physics, new biology and coaching. Of course, in my work with individual, team and organizational clients, my search for continuous practical improvement in systemic coaching is ongoing, as can be validated over the years, by my client results. In short, systemic coaching is my passion, and I share it wherever I can.

Over time, a systemic coaching community of spirit has also developed between Metasysteme Coaching alumni. It indeed seems that all those who have participated in the "Fundamentals of Masterful Coaching", in diverse self-managed Metasysteme peer groups, in "Supervision" programs or in "Metacoach Workshops" recognize that they share common foundations. As these Metasysteme Coaching alumni grow and develop over time, their clients also perceive their specificity. As they become active professionals and develop their personal style and differentiating touches, they also in turn, participate in developing the larger Metasysteme community of mind. And I am deeply thankful for this shared adventure in our personal and professional development.
But how can one define the specificity of the Metasysteme approach to another coach? It is still difficult to put words what may become a specific branch of the continental coaching community. The type of systemic coaching it concerns is totally inclusive, and in coherency with the deep resonances that physically connect the coach with the client and both of them with their much larger shared environment. Beyond the obvious perception of a systemic reality, the Metasysteme approach also rests on a profound personal presence made of intimacy and trust, a powerful capacity to communicate and an uncompromising ethical stance. This systemic coach presence allows professionals to explore a truly humble posture within a respectful peer relationship and an all-inclusive positive environment. Consequently, the systemic coach posture is in profound alliance with both the client and an undivided or un-segmented shared reality. In short, the Metasysteme coach posture is not only a way of working. With practice, it gradually becomes a way of being.
Coach training, supervision and conferences.
With professional precision, a well-paced and dynamic learning environment, a set of well-calibrated interpersonal and collective exercises, and truly motivated commitment, it is possible to rapidly and effectively train, either to become a professional systemic coach or to acquire systemci coaching tools to use as a leader or manager. The "Fundamentals of coaching Mastery" is a practical proof of this assertion. Metasysteme Coaching yearly offers three of these training programs per year in Bucharest in English https://www.metasysteme-coaching.ro/romana/agenda-si-preturi-2011/ and in Paris in French https://www.metasysteme.fr/francais/tarifs-dates-et-inscriptions/. The next sessions will start in September to finish in December 2011. The following ones will start in January 2012: Don't hesitate to sign up, and/or to tell your network and friends about this program.
With a necessary complement focused on intensive practice, both in peer groups and in the Metasysteme Coaching "Supervision" programs, participants all recognize that the Metasysteme training has actively participated in developing their personal and professional lives towards increased excellence and authenticity. To register for the Bucharest "Supervision" group: https://www.metasysteme-coaching.ro/romana/contact/ For the ones in Liège or in Paris, register on https://www.metasysteme.fr/francais/tarifs-dates-et-inscriptions/
To develop competencies in the more collective dimensions of team and organizational coaching, each of the four Metacoach two-day workshops offer enlarged perspectives and very practical tools for professional coaches. The next workshops in English on "Breakthrough Processes" in coaching is programmed In Bucharest for September 22 & 23, 2011.
In English, Metasysteme is also offering a workshop on « Risk Management/the cubes exercise » in Hamburg, Germany on October 27-28, 2011. Don't hesitate to mention these events to your international friends. https://www.metasysteme.eu/english/hamburg-contact-form/
Remember in passing that the International Coach Federation has validated as "ACSTH" all the above Metasysteme Coaching training programs. Each of these consequently offer credits in view of passing all the different levels of international certification delivered by that professional association.
Occasional informational conferences also spread the word on different aspects of the Metasysteme systemic approach. I have delivered one for the Geneva ICF chapter this last May 24th, will deliver another for the ESADE university in Madrid this June 15 (just before the ICF conference also in Madrid), another for the French SFCoach Association this coming October., and I hope that there will be a lot more to come.
This lengthy menu of activities may appear to concern very different coaching subjects and tools. In reality, they are each an integral part of a very coherent ensemble. They each participate in defining elements of the same systemic posture, the same type of systemic coaching presence. As we contribute to the development of the gradually emerging Metasysteme school of thought, I am more and more aware that we are in the process of gradually co-creating a powerful new frame of reference within the larger coaching community. Members of the Metasysteme coaching alumni network are aware of their professional difference, of participating in a coherent emerging community of thought and of shared meaning. Once more, thank you all very deeply for your interest, participation and support in this collective adventure. Thank you also for your contribution to its development by spreading the word about Metasysteme Coaching.
A little red light in the window of the building in the far background? That's the place.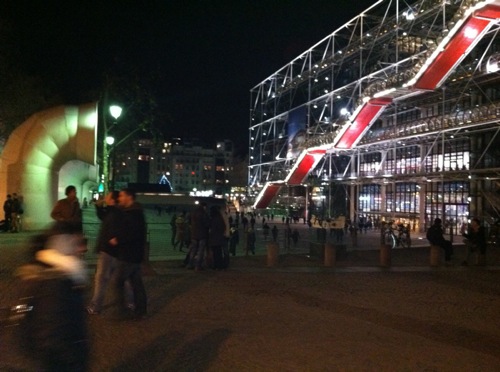 As soon as the renovation is finished (in just a few more weeks...) Geanina and I will move into our new Paris flat. Whenever we'll be in Paris, we will be able to view the above scene on a daily basis. We plan to spend most of this summer in this new home, getting installed settling and resting. I will be able to get all my books (and comic books) out of storage where they have been for over a year. I must say that I am looking forward to having an office where I will be able to focus, dedicated to reading and writing. But we will probably also make a few short trips to different seasides to get our fill of salt water and sunshine.
So unless we meet before summer (maybe in Madrid or Romania?), I wish you all a wonderful vacation, and suggest we keep in toutch through Facebook (Alain Cardon MCC), through email, or by phone.
Coachingly yours,

Alain
And do get your network friends to sign up to receive this occasional newsletter !