11 September 2011
Dear Friends,
Even if the fall season started really early in France, with unusually low temperatures all July and August, summer will soon be officially over. We have stayed in Paris most of this time, following up on the renovation program in our new apartment. It is still not close to being finished. Even if August doesn't count as real time in France, the delivery date is way overdue: soon double the time and probably double the budget. We can confirm that Paris is not the place to undertake any renovation. The good side (always a good side): my office was (almost) finished first, and I have been able to devote precious hours to reading, writing, thinking and networking. Those of you who are connected to the Metasysteme Coaching Facebook group can testify.
We also went for one week of sunning, swimming, eating fish, enjoying the company of very good friends, island-hopping in the Greek Ionians from Corfu to Kefalonia. That short trip was really a condensed but superb summer vacation (you can check some photos posted on Facebook). All the conditions were there to make this trip a most unforgettable experience, nourishing for our bodies (and bellies), hearts, minds and souls. The picture below was taken on our last day, on the ferry back to the airport. We have since been in Paris with big contented grins, that just won't wipe off our faces. And I have already lost the extra kilos.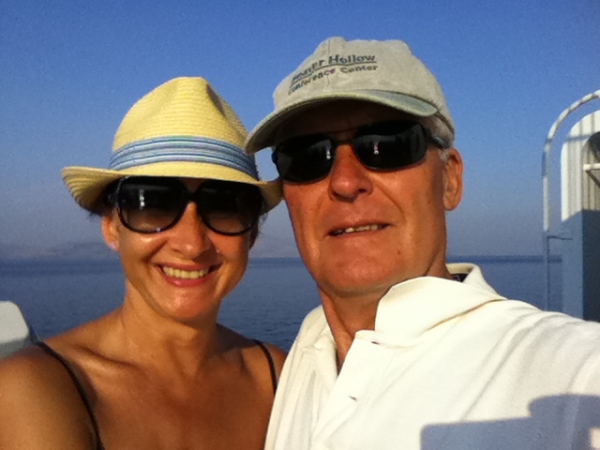 Our Bucharest Program:
This fall, we plan to be half in Paris, half in Bucharest, up to fifteen days each time, and some extra trips elsewhere. Work has started in Paris, followed by Bucharest, and the Enescu music Festival (we wouldn't miss that for the world), and then back to Paris at the end of September. Each trip includes work with individuals, teams and organizations, and delivering our coach training and supervision programs for the Metasysteme Academy (plus a few short conferences elsewhere). Some highlights below:

September 12-13 in Paris and 19-20 in Bucharest, I start this fall's edition of our "Coaching Fundamentals" course. The courses will continue 2 days per month until their conclusion in December. Another edition will start in January in the same places plus in Madrid, January 30-31 in English. If I may brag, I believe this coaching fundamentals course is one of, if not the best systemic coach training program in Europe. It is designed to prepare beginning and confirmed coaches to pass all levels of certification with the International Coach Federation. It also provides participants with an unparalleled, "systemic coaching" edge. If you decide to attend, be prepared to embark on a deep and personal transformational learning experience and on an extraordinary professional development process. For information on the program, prices, check our different pages and to register to the new Madrid program: https://www.metasysteme.eu/english/dates-locations-and-prices/coaching-fundamentals-madrid.html
Just after that in Bucharest, on September 22nd & 23rd, I am leading a shorter 2-day "Breakthrough" workshop. This learning experience is also for managers, consultants and future coaches. It is one of a series of four short and practical workshops designed for participants to acquire advanced tools focused on individual, team and organizational coaching. Some personal preparation will be asked so as to allow each to practice personal breakthroughs in specific areas in their personal and professional lives. A tee bit late, but for information on the program, prices and to register, same link: https://www.metasysteme-coaching.ro/romana/dates-prices-and-registration/
The ongoing Metasysteme Supervision groups are continuing their one-day-per-month co-development process for established coaches In Paris, Lyon and Bucharest. These are getting to be more and more popular. I am proud to underline that a large majority of ICF-validated coaches in Romania are Fundamentals and Supervision group alumni. I don't have french statistics but the numbers must be significant. And I am launching a new French-language supervision group in Liège in January 2012, and possibly in Madrid later that year. To register: https://www.metasysteme.fr/francais/tarifs-dates-et-inscriptions/cycle-de-supervision-a-liege.html and do not hesitate to let people know about this program, we need a minimum number of participants to make it a success.

October 12 will be the official launching of my latest Romanian book: Dictionar de Coaching Comentat. it proposes an exploration process into the malleable meanings of words and perspectives of concepts commonly used in coaching, in life, in management and business. The book is designed to provide food for thought for established coaches, and why not, for everyone else.

October 27-28, and organized by Christina Quirin in Hamburg I will lead a workshop on Risk management (Cubes exercise). Excellent for coaching miners, airline pilots, bankers, sports champions, leaders and managers, and you if you come as a participant. This workshop is also ACSTH validated by the ICF, and is one in which I regularly get extraordinary insights. To contact Christina and get more information: https://www.metasysteme.eu/english/hamburg-contact-form/

November 11, I will deliver a short conference for the Romanian Coaching Association, in Bucharest again. Theme: Relational resonances in the coach-client relationship. The workshop will offer practical insights on systemic resonances in different levels of the coach-client relationship, and on how these resonances may affect client results. Time willing, a few practical systemic communication tools to become a more powerful coach will also be shared. Key competencies: listening, presence, direct communication.

So as you seen, not counting my work coaching clients, teams and organizations, I'm going to be a busy bee this fall. And I'm actually quite Zen about our apartment renovation issue. We'll move in when we will move in. In the meantime, I'm focusing on the job at hand, and whatever comes my way.
And right now, what is up is the George Enescu music festival in Bucharest. A truly magical experience, and here's a link to the program, just for you to get an idea of its extraordinary range and quality: https://www.festivalenescu.ro/index.php?id=3. This festival takes place September every other year.

So until we meet, take very good care;
Alain