05 January 2014
Dear Friends
All our best wishes for 2014 !! May this be your most stimulating and enlightening year, filled with love and friendships, joyful and successful projects, and excellent health to keep your youthful hearts and souls expanding.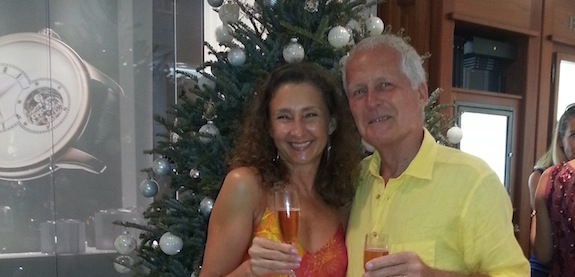 Flying high:
First my latest lesson in humility: I had always thought that the sixties decade was a time for road warriors to slow down and start considering a well-deserved rest. I had it all wrong! As a foretaste of what this year has in store for us, we have celebrated our new year's eve in an airplane, flying over the Atlantic to make it to a January 2 & 3 workshop. In keeping with such an introduction to 2014, we are expecting more than our share of personal and professional trips this year, and on longer distances. One obvious reason that I had not forseen is that beyond France, Spain and Romania, Metasysteme Coaching's contribution to the profession is gradually attracting much more attention, worldwide. To illustrate, below is a short list of what is almost spontaneously coming our way:

In Bogota, Colombia, May 2 & 3 2014. I'm delivering a conference and a workshop, both are to be on Metasysteme's specific slant on systemic coaching, to be delivered in English for a local training, consulting and coaching school: AIAC. Registration is open to the general public. https://www.aiac-ac.com/

In Casablanca, Morocco,
and in French, we will deliver our complete "Systemic Coaching Fundamentals" course for local managers and coaches: Two days monthly, from February to May 2014 (8 days total, plus two days of systemic supervision for coaches in May). For information and to register :
https://www.caprh-maroc.com/details_actualites.php?id=15
In Mexico City, With a local partner, another delivery of our complete "Systemic Coaching Fundamentals" course for managers and coaches: Two days monthly, from July to October 2014. In English (one part in Spanish, by Claude Arribas in the September segment of the course). For information and to register: https://alaincardon.com/alain-cardon-2014/web/ac14_reserva.php Along with that central program, we will also deliver a series of 2-day Metacoach Workshops on team and organization coaching, a systemic supervision marathon and a workshop on "how to sell yourself as a coach". For information on that second program and to register: https://expandiendo.com/coaching/systemic-team-workshops/ Also in Cancun, in October, we will deliver a one-day conference on team performance for a Yucatan business club.

In Madrid, Spain, Claude Arribas is delivering the whole Metasysteme Coaching coach-training program, including the "Systemic Coaching Fundamentals for managers and coaches, Metacoach workshops and systemic supervision for coaches. Delivered in Spanish. For the programs and to register: https://www.anse.fr/espanol/ For both of the above, do not hesitate to inform your hispanic network ! Claude is slowly developing a local systemic coach community, and this is on top of his coaching work with some of Spain"s largest companies.

In Iasi, Roumanie, we will deliver a complete "Systemic Coaching Fundamentals" course for managers and coaches: Two days monthly, from January to April. This program is delivered in English, so it is open to international participants. For more details and registration: https://www.metasysteme-coaching.eu/english/dates-locations-and-prices/1541/new-systemic-leardership-et-coaching-fundamentals-iasi-romania/ In Bucarest and for the larger Romanian professional coach commiunity, we have programmed an intensive three-day "Supervision Marathon" for trained systemic coaches. January 23-24-25, and also in English. For information and to register: https://www.metasysteme-coaching.eu/english/dates-locations-and-prices/1395/hypervision-systemic-coaching-supervision-marathon-jan-23-24-25-2014-in-bucharest/

In Paris, France and in French, we will continue to program our usual coach supervisions, our organization and team coaching workshops and our "Systemic Coaching Fundamentals" training for managers and coaches. The next cycle starts in April. Tell your French network about it. To consult the program and for registration : https://www.metasysteme-coaching.fr/francais/tarifs-dates-et-inscriptions/
NEW: Also in Paris, I am asked to teach in the new ESG-MBA university leadership program on coaching. That is their first program on coaching and it starts September 2014. Who knows, becoming a university lecturer-cum-trainer may be a very good occupation for a semi-retiring Master Certified Coach...

Conferences: Three keynote hours to be delivered in Paris, February 6, for Beyond CT (Coach and Team from Transformance Coaching Schoot), The theme is Le Coaching Systémique. A little later on April 14, i have another three hour keynote delivery in Lyon for the SFCoach (French professional association for coaches), and the theme is again: le Coaching Systémique. Conclusion, although the French coaching market is mature, it is still growing, and Metasysteme's systemic coaching community is becoming rather central.

Malmö, in Sweden: Do not forget to register for the ICF conference, from September 18 to 20. Soon on https://www.icfglobal2014-europe.org/ and we plan to be there.

And on our off time, we also expect to take a few travelling vacations, to New York in May, to Spain in July, etc. just to get a little more air time.
To conclude...
So if many aim to spend their roaring sixties on idillc cruises and exotic travels to paradisiac destinations, we also feel truly blessed: we can both travel to meet the world and continue to contribute to new worldwide clients and students on the growing edge of the coaching profession. But please do not conclude that our program will make us unavailable! We have always managed to make time to meet friends, at least for coffee or beer and sometimes more, either for pleasure or to meet new challenges with truly committed people.

Remember to occasionally consult the new Metasysteme Coaching website. Since September, it is lighter, more dynamic, more fluid and more generous than it has ever been: www.metasysteme-coaching.eu You can also access a number of short video clips on Systemic Coaching on our YouTube playlist: https://www.youtube.com/watch?v=uBJuwnEun9Q&list=PLul7g3zvXpWKS8VoT42J_rZ95whppLMja

Once more, both personally and in the name of the Metasysteme Coaching Network and community, I wish you an excellent year in 2014, and I hope we will find an opportunity to meet or to reconnect either in Bucharest or in Paris or anywhere else in the course of our travels.

Sincerely,
Alain