20 May 2016
Dear friends
Unfortunately and sadly, we have had to interrupt our Camino pilgrimage to Compostella! No blisters, no muscle aches, but my wife Geanina is suffering from a very painful ankle tendinitis. She is now obliged to undertake a major healing program.
After 600 kilometers in the Spanish hills and high plateaus, just as we were entering Galicia, impossible for her to walk another step! Barely two hundred kilometers from achieving our goal! We are enraged to have to give up after successfully walking 950km last year from Paris to the Spanish border, and another 600km this year from where we had left off in Saint Jean Pied de Port.
So we are now back in Paris, digesting our exceptional experience living a full month on the Camino Francès, and the deception of having to postpone finishing the trip until next year. Of course, there must be some meaning and learning for each of us and as a couple, but I am not jumping to conclusions yet! I do make a connection, however, with the fact that I have numerous ongoing professional projects on several backburners, and that they all deserve to be well launched if not brought to successful conclusions. I am getting that message loud and clear!
For those of you who have not followed, many pictures from Paris to Tricastella, are posted on my FACEBOOK page. Look for Alain Cardon MCC and invite yourself! For the sequel to this walkabout that I really prescribe to all, please be patient until same time next year!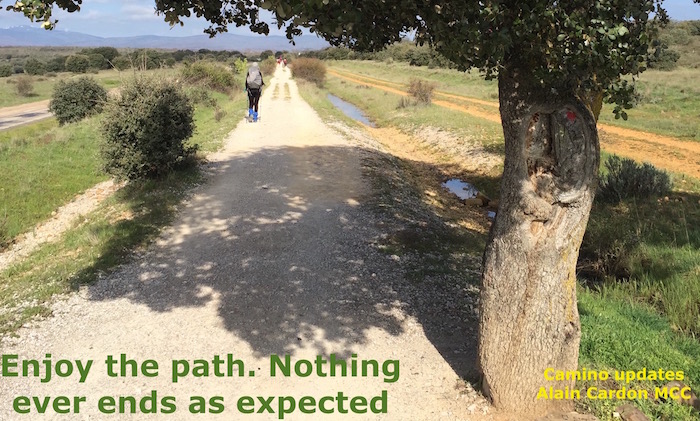 Now, back to reality:
I am now gradually getting back into and reactivating my professional life. My program for June and July is rather full. This includes several open courses and events organized in Romania, our main English-language destination for European Systemic coach training. As in the past, do not hesitate to tell your friends and networks about these events, should you think they may benefit from them. In advance, thank you for your support!

Foremost at the present time, both within executive teams and in my systemic coach-training programs, one specific Metasysteme approach seems to be very popular: our Risk Management workshop. It provides a coaching process to explore those time and energy webs and patterns that weave through and structure our personal, professional, social, psychological and spiritual lives. For managers, teams and coaches who want to live on the edge, this workshop provides both:
A two-day proposal to peer through fractal prisms of individual and team potentials, make new choices and expand personal and professional futures.
A hands-on, synthetic learning opportunity for managers and coaches to discover and explore the power of systemic coaching from a master in the field.
Open Risk Management workshops for managers and coaches are programmed in English first in
Iasi (Romania)
on June 6 & 7 (Full as of today), and then
in Bucharest
on June 9 & 10 (some places left, so please feed the buzz on that event!). And know that this workshop also offers trained coaches 14 CCEUs (ICF-validated) hours! For what more can a person ask?
On top of those open workshops, several international companies have recently programmed adapted versions of this process for in-house work within their leadership teams!
Speaking of Iasi, I'm also delivering a keynote speech there, on the Art of leadership as seen through the prism of a manager-coach. The concept is known, but I appreciate being able to give my views on it in the
SummIT Conference for
IT managers, June 8, 2016.
Also in Bucharest this coming June 31 and July 1 & 2, I am holding a Supervision Marathon (21 ICF CCEUs) for systemic coaches and managers. This workshop applies to all forms of personal and professional coaching such as in executive, life, team and organizational coaching work.
More specifically, Systemic Supervision simultaneously covers:
Systemic coaching skills development, situations and issues brought by participating systemic managers and coaches,
Supervision of observed coaching work in situ,
Supervision of interactions within the supervision group as a systemic vector of unfolding synchronic or fractal occurrences.
This is truly very intense and advanced systemic coaching work.

The next English-language Systemic Coaching Fundamentals course for European managers and coaches is programmed for October 10 and 11 in Bucharest and another for October 17 and 18 in Iasi, both to end in January 2017. This program has attracted people from all over Europe, (even French internationally-minded participants!) And we already have a candidate from Moscow for the Bucharest fall program! Know There are many low-cost flights to these two destinations.

This same coach-training course is delivered in Paris in French and in Spanish in Madrid. It has been constantly improved over the years and is now internationally recognized as the best in the field. To get a glimpse of some of the reasons for its effectiveness, you may want to consult an article on its innovative collaborative learning architecture.

As a resource for readers on the metasysteme-coaching website, a new page offers access to my recent English Linkedin articles on coaching, change management, and organizational culture, etc.
On the subject of resources, don't forget to consult our video library on YouTube It includes over 30 English, 10-to-15-minute short takes on coaching, management, communication, systems thinking, etc. You have ayour pick of subjects! Consulted by thousands!

Also, a new, corrected and revised version of the Spanish version of Masterful Systemic Coaching is now called El VERDADERO ARTE DEL MASTER COACH and downloaded on KINDLE. Available as of now, the translation has been seriouslly overhauled, and I am told the book is now as good as the original French one if not better. Thank you Lourdes Cabrero for the fine translation work!

That's all for now, knowing that our summer months – mid-July to mid-August are staying open for family time, personal rest and repair from our grueling road-trip, a very dear cousin's wedding in the Loire Valley, writing, and general chilling out.
SO: If we don't meet or connect before, we wish you an excellent, warm and healthy summer, and we'll send fresh news in the fall. So thank you for your unfailing presence and support, and take excellent care!
Sincerely, Alain