SHOULD TRAVEL RESTRICTIONS OCCUR (New epidemics), METASYSTEME COACHING IS EQUIPPED AND ORGANIZED FOR ONLINE DELIVERY of (almost) ALL THE SYSTEMIC COACHING TRAINING MODULES PRESENTED BELOW

Indeed, during the spring 2020 COVID-19 epidemic, we have led all our Systemic Coachiing courses on ZOOM. We were able to respect our landmark learning architecture, working in large and small 3-way break-outs to ensure an excellent experience for all.
All our training classroom settings: large group, small groups, debriefs, supervisions, etc. can be experienced while you stay safe at home or in an other secure location of your choice.
A few tips to do this well:
You will need to spend two or three days in front of a desk-top screen, the bigger the better (not a phone or tablet) with a wide-band wire connection (with wi-fi, you will be disconnected too often) in a room where you will not be disturbed.
If not at home, you have time to get organized to find a clean borrowed or office location where you can be alone. And do not forget to disinfect keyboard, mouse and everything else you touch!
This experience can be all the more useful for participants who work with online meetings, who manage collective projects and distributed teams and want to do it very effectively! Even for large family online gatherings! You may have already experienced Metasysteme Coaching learning architectures and know they are extremely participative. This central criteria is totally respected should our training programs be offered online !
Online or not, all the coach training programs offered by Metasysteme Coaching are ACSTH (coach specific training hours) validated by the International Coach Federation. Thess programs are also open to Managers and leaders who wish to develop their
systemic
coaching and management skills.
________________________________________
ONLINE: THE FUNDAMENTALS OF SYSTEMIC COACHING AND LEADERSHIP
Trainers, Alain Cardon MCC, Rares Manolescu, ACC

Hours : 1:00pm to 10:00pm GMT(UK)
/ 8:00am to 5:00pm EST (US). Seven intensive work hours
per day (plus practice between sessions).
ONLINE Systemic Coaching Fundamentals & Empowering Leadership / OPEN

Part 1: November 16-17, 2020- Establishing the systemic coaching relationship

Part 2: December 21-22- Changing perspectives with systemic questioning

Part 3: January 25-26, 2021- Establishing coaching contracts and agreements

Part 4: March 1-2, 2021- Systemic Coaching perspectives

Supervision day – March 3, 2021
For high-potential entrepreneurs, leaders, managers, change agents and coaches (experienced or beginners) who want to acquire a natural and masterful ease in their practical use of systemic leadership and coaching skills. The objective of this course is to achieve the strategic elegance of systemic management/coaching mastery.
For those who perceive that they need to develop their systemic leadership, manager or coach posture, with the characteristic systemic presence conducive to client / employee, team and organizational development.
Consequently, this training program on the Fundamentals of Systemic Management & Coaching Mastery is for confirmed consultants and coaches, for leaders who want to develop themselves to break through to their next level of awareness and skills, and for high-potential managers who wish to add a systemic coaching posture and behaviors to their other personal and people-management competencies.

The preferential reduced early bird price posted on the right of this page concerns all registrations paid in full, at least 7 days prior to the beginning of the event. All other payment schemes are to be registered at the full price, using the form provided at the bottom of this page.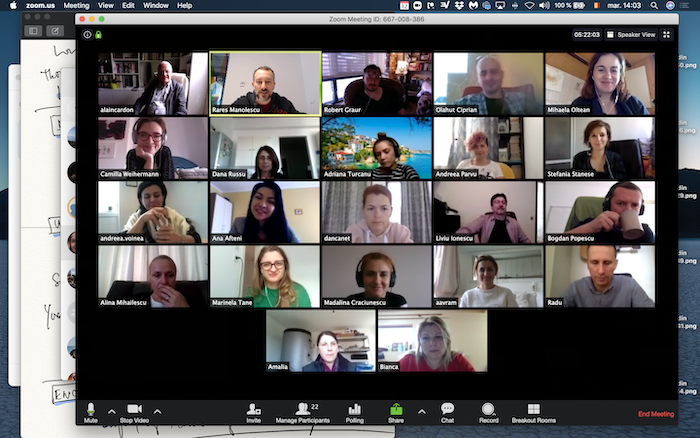 Above, an online class while in a large-group debrief sequence

Participants : High-potential managers, leaders, consultants, internal or external coaches i.e. future systemic coaches. An engagement to attend the complete cycle is necessary.
Virtual classroom hours : 11:00am to 8:pm GMT(UK) / 7:00am to 4:00pm StandardEasternTime (US). Seven intensive work hours per day, nine days.
Plus INTENSIVE Practice hours between participants, up to 180 hours between sessions.
Coach/Trainers: Alain Cardon MCC and Rares Manolescu ACC: An ICF ACSTH validated course
Classical Registration: Please retrieve, print, complete, and send the registration sheet provided by the link below. Registrations are accepted in order of arrival, and only when accompanied by the adequate contracts.