NOTE: The programs proposed below are sometimes offered online, sometimes on location in Bucharest (or other cities), and sometimes both.
Since the March 2020 COVID outbreak, we have ensured almost all of our training activity ON LINE. In doing so, we have respected our landmark learning architectures, working in large and smaller three-to-ten participant, practice-oriented sub-groups. We have thus ensured the excellent learning experience provided in the « Systemic Coaching Fundamentals », the two-day team-coaching workshops and three-day supervision marathons. 

Some advice to ensure the quality of your online learning experience:
To work two to three consecutive days online, you Will need a desktop computer (not a téléphone, tablet or équivalent portable screen), a wire high-bandwidth connection (not an instable wi-fi), and a secure, confidential room.
Should you not be at home, you need to plan to find an appropriate business or borrowed location where you can work with the required privacy.
Other original ZOOM-specific operating procedures are shared with participants to ensure a very intensive highly engaging learning experience

This learning experience will be all the more useful for professionnels to experience how to effectively undertake professional online work.

________________________________________
Simultaneous translation, into Spanish, for Latin America ONLINE: THE FUNDAMENTALS OF SYSTEMIC COACHING AND LEADERSHIP
Trainer, Alain Cardon MCC,

Hours : 9:00 am to 18:00 pm Romania time. (East Europe)

Dates: OPEN for registration

Part 1: May 20_21, 2021- Establishing the systemic coaching relationship

Part 2: June 17-18, 2021, Changing perspectives with systemic questioning

Part 3: July 22-23, 2021- Establishing coaching contracts and agreements

Part 4: September 1-2 2021- Systemic Coaching perspectives

Supervision day – September 3, 2021
For high-potential entrepreneurs, leaders, managers, change agents and coaches (experienced or beginners) who want to acquire a natural and masterful ease in their practical use of systemic leadership and coaching skills (ICF ACSTH). The objective of this course is to achieve the strategic elegance of systemic management/coaching mastery.
For those who perceive that they need to develop their systemic leadership, manager or coach posture, with the characteristic systemic presence conducive to client / employee, team and organizational development.
Consequently, this training program on the Fundamentals of Systemic Management & Coaching Mastery is for consultants, coaches, and leaders who want to break through to their next level of personal awareness and professional skills, and for high-potential managers who wish to add a systemic coaching posture and behaviors to their other personal and people-management competencies.

The preferential reduced early bird price posted on the right of this page concerns all registrations paid in full, at least 7 days prior to the beginning of the event. All other payment schemes are to be registered at the full price, using the form provided at the bottom of this page.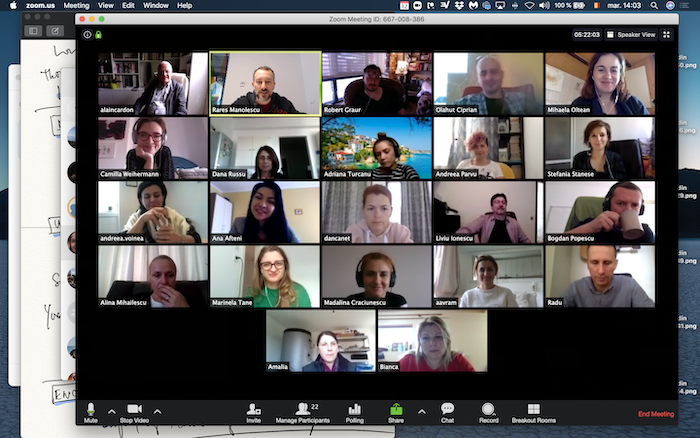 Above, an online class while in a large-group debrief sequence

Participants : High-potential managers, leaders, consultants, internal or external coaches i.e. future systemic coaches. An engagement to attend the complete cycle is necessary.
Virtual classroom hours : 9:00am to 6:pm Bucharest - East European time.
Plus INTENSIVE Practice hours between participants - up to 180 hours between sessions.
Coach/Trainers: Alain Cardon MCC, with Rares Manolescu ACC: An ICF ACSTH validated course
Classical Registration: Please retrieve, print, complete, and send the registration sheet provided by the link below. Registrations are accepted in order of arrival, and only when accompanied by the adequate contracts.