28 October 2014
Dear friends
It is still fall, but I already have my seasonal cold, so it seems that winter is here. I hope that you are well, and that the slow economic context is not affecting you too harshly. On that note, I have had a last-minute cancellation of an important program, so I am feeling that pinch. The good side (there is always a good side) is that I now have more time on my hands, and I can use it for several important digital projects, one of which I will briefly present below: First, both projects offer services for coaches and for coaching clients.
The first project is centered on evaluating individual coaching skills such as the proverbial ICF eleven competencies. This project should be online before the end of this year, and I will say a few more words about it below.
The second project is a systemic (viral) collaborative tool to really boost network and team effectiveness. It will therefore also concern systemic team coaches. Its conception is taking time, so it is still a little too immature to be detailed now (teasing!).
You, my dear friends, are the first to be formally informed about the Metasysteme Coach Skills Inventory or (MCIS)tm. The first or BETA version will soon be delivered in English, and others will gradually become available on the Metasysteme-coaching websites, one language at a time.
The METASYSTEME COACH SKILLS INVENTORY
After responding to a rather short and apparently simple online questionnaire, a manager or coach will automaticallly receive a free (for the BETA version) and personalized .pdf inventory of demonstrated behavioral strengths and shortcomings. Note that this inventory will specifically concern personal management and coaching skills, not profiles.
The extensive database from which each report is compiled rests on a systemic (or fractal) perspective of four major groupings of managerial and/or coaching behavioral skills. The four groups of skills are systemic in that they are:
Indifferently appropriate for coaches and managers, related to pattern resonances that occur between both.

Indifferently appropriate in sequences that are just a few minutes long such as a very short coaching session, and in sequences that can last up to several months or years, such as any longer-term project.

Non-sequential, as the four major groups of skills are simultaneously appropriate at all times, for any manager or coach.
The ten-page+ reports are precise to a good degree of complexity, offering each respondant indications both of specific success strategies and of single and multiple avoidance patterns, that can apply to a host of personal and professional situations.
Generate client-leads
Ultimately, coaches and managers who wish to follow up on their questionnaire results with professional coaching or with coach mentoring can request to be automatically referred by the website to systemic coaches that are also ICF-validated.
Consequently in the future and in different languages, the (MCIS)tm program is projected to generate client leads to the benefit of trained systemic coaches. Incidentally, coaches will also be able to ask clients to answer the questionnaire. They can then use the (MICS)tm synthetic inventory to coach those client's on adjusting their personal and professional systemic patterns.
I have been patiently exploring and preparing this (MICS)tm online service for a number of years. Consequently, I am very pleased to let you know that it will be online soon. I will keep you posted on its availability in the very near future, as soon as the BETA version is activated.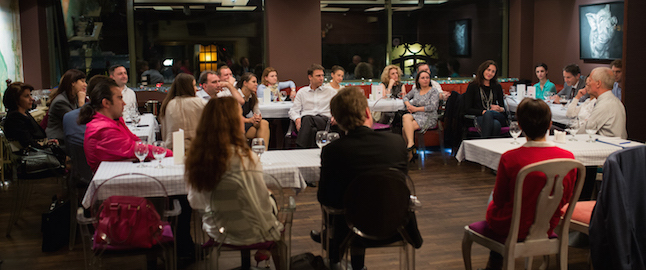 ABOVE: An Evening with Friends, clients and prospects at DADA's Restaurant in October.

Other news
The usual Metasysteme coach-training programs are ongoing in France (in French) in Bucharest (in English) and in Spain (Spanish). Plans for a program in Mexico are presently at a stansdtill, but we will keep you posted on our website.

I have recently recorded another set of short videos to enlarge my English YouTube playlist. They are now being processed and will gradually be released in the coming months. So check in once in awhile to make sure you are not missing out on useful resources. Of course, you can also consult the French YouTube playlist! to check for different themes.
The metasysteme-coaching website is continuing to be very popular with around 12000 visits per month, originating from 140 to 150 countries. Obviously, most hits concern the articles pages that offer many resources for coaches.

Reminder: two updated English books on individual "Systemic Masterful Coaching" and on "Team and Organizational Coaching" are posted on the Kindle Store. For your Hispanic friends, the Spanish translation of the first one, "Maestria en Coaching Systémico", is gradually being reworked and updated, so spread the word !i
For your information, ACC, PCC and MCC certification requirements are gradually being modified and updated by the ICF. So should you be motivated to present for those professional validations, keep yourselves informed as to these changes on the ICF website.

As this letter is becoming a little long, I will now sign off. I do hope to hear from you or see you in the near future. So do not hesitate to respond by mail, or just give a call to chat, or arrange for a Skype meeting. And you can also forward this letter to anyone you think may be interested in its content and links.

Digitally yours

Alain and Geanina