20 March 2020
Dear friends,
I do hope you are healthy, taking good care of yourselves and loved ones, actively supporting each other in your communities, taking time to refocus on what is most essential. As for us, we are safe at home, cocooning in our Paris apartment, doing what it takes to stay well, exercise, and express our usual good spirits.
Geanina and I are lucky in that we are accustomed to being intimately alone together. In the past week, we just took two short walks to get food from corner stores. At home, we are boosting our natural immunity with vitamines, garlic-lemon-onions, fruits and veggies, exercise and stretching (not quite enough on that last one!), etc. We are adapting to what people here call a crisis, or what coaches generally call an opportunity... until it hits us very personally.
I somehow believe this very real pandemic is also an
extraordinary acceleration process in a much larger, systemic, paradigm
shift:
Note indeed that before the corona virus outbreak, globalization was fizzling out. In 2019, many countries, companies, economies and communities were selling, downsizing, retracting, even rebuilding walls and returning to various forms of nationalism and ethnocentrism. Covid-19 is now accompanying this worldwide centripetal protectionist trend to a whole new level, very forcefully.
Simultaneously, a paradoxical global view on current events may indicate that humanity's worst case scenario may soon be solved!

Consider indeed that without concretely doing much over the past decades, we have been insisting on the urgent need to downsize global consumer frenzy, to find a much healthier work-life balance, to stop individual, corporate and continental burn-outs and wildfires, to put an end to big-money driven wars and poverty, to seriously limit car, airplane, cruise-ship and conglomerate polluters, ... Remember that less than six months ago in 2019, we stood up against global warming and admired Greta's radical approach to recover Mother Earth's sustainability, for the good of our children's, humanity's, and planet's future. A large majority of experts calculated that it would take ten to
twenty years to limit global warming by one or two little Celcius
degrees.
Now however, Covid-19 is suddenly poised go deliver much more in just a few
months.
In fact, our wildest ecological ambitions may well be achieved by the current pandemic! The fight against the corona virus is in fact gradually redirecting government policies
the world over. They restrict or downsize useless travel, needless
movement and consumption, superfluous over-production, social interaction, political and sports events to utmost minimalism. Covid-19 is now imposing local survival-level frugality and back-to-basics as a global policy! Three to six months of mandatory containment, lock-down and down-sizing may well make a very significant dent in our international consumer folly, and hopefully help humanity refocus on long-forgotten core values!
Within the next six months, companies, managers and employees who don't seriously reboot back to exxentials may be brushed aside or put under oxygen perfusion. By the end of summer, mega tankers, fossil energy producers, consumerist manufacturers, and champions of designed obsolescence may have to shift paradigms or be reconfigured, dismembered or just trashed.
On the positive side, individuals, teams, families, communities and companies who now seize the opportunity to radically shift the quality of their local, national and global footprints will be transforming and remodeling their futures. At any rate, if this crisis is headed in the right ecological direction, there is no real need to panic: let us all very simply down-size, retract, stay home, protect ourselves, our families and communities, cure and save all we can, and re-invent our personal and professional lives to fit into a much more sustainable future.
I may just be looking at the brighter side of the coin, or maybe to the "luminous side of the force". Isn't that what real coaches do? It also seems to me that the job at hand is for us coaches to accompany all those who were a little less prepared for this paradigm shift, and make sure it really lasts.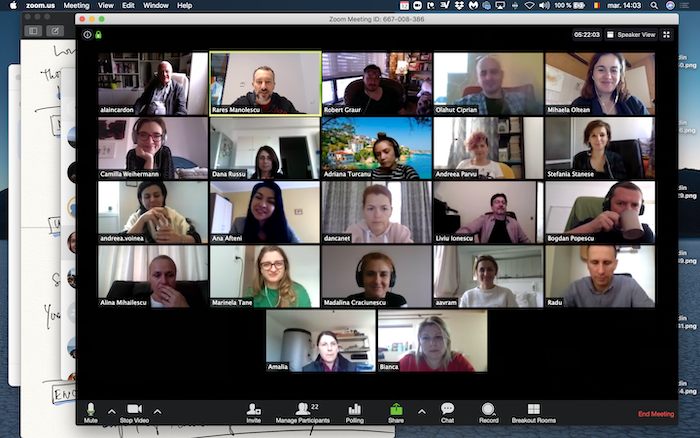 Above: our most recent "Fundamentals of Systemic Coaching" group, working hard online!

Systemic Coaching...
NOTE: The Metasysteme Coaching Network is now poised to ensure all its current classroom coach-training engagements ONLINE:
All our existing systemic coaching events for managers and coaches, all our workshops, trainings and supervisions, and all our corporate team coaching events are reconfigured to occur as planned.
What's more, we are ensuring that these events will all respect the radically innovative delegated learning architectures that have made Metasysteme's worldwide viral reputation. This includes all previous classroom-setting large and small-group work, future oriented debriefs, supervision sequences, community learning, etc.

We were already singled out as brazenly creative systemic coaches for our central use of silence, our insistance on minimal auditive and linguistic indicators, our flash 8-minute coaching formats, our fractal-coaching skills, our powerful paradoxical questioning, our environmental inclusion, our existential and spiritual anchoring, etc. All these and more can now be experiencially learned online with the following:

NEW: To expand our global-influencer footprint (Biz magazine article, page 062), Metasysteme Coaching is now offering a first English-language, Americas-friendly (New York eastern standard time), 9-day or 63-hour, ACSTH or CCEU I.C.F.-validated, online "Systemic Coaching Fundamentals" course! It starts April 21-22 to end July 15-16-17, 2020.
Under continuous improvement since 2007, this is a highly engaging, 80% practical, community-learning experience minutely taylored to convey the core skills and innovative frame of reference underpinning Metasysteme Coaching's breakthrough approach. On our website, you can consult numerous articles (list on right column) that illustrate our performing originality.

Bonus: Due to covid-19 and until further notice, all our otherwise programmed events will also be held online. This specifically concerns our systemic coach-training programs in French Paris time, in English Bucharest time, in Spanish Madrid time, and Santiago - Peru time. Should you speak these languages and be willing to attend at these local times, you now have a golden international opportunity to participate .

You will also need a wide-screen table computer for better comfort than a tablet or phone! Wire connection is also better than wi-fi that tends to periodically cut off. Also arrange for a closed room, where you will not be disturbed for an intensive daily 9 hour experience.
Concerning breaks, plan for coffee and food, for two half-hour breaks, a one-hour lunch , and if you wish, our legendary online "after-work".

Should you not work from home, make sure you are in a quiet, healthy, virus-free environment where you will be secure. And do disinfect all you touch before and after.

A short preliminary call with one of the trainers is highly recommended. In order to ensure an official presence sheet, you will also need to pre-register into our ZOOM events.
Bonus II: Metasysteme Coaching's community learning architectures adapted to online work is all the more useful for participating managers and coaches who wish to explore the potential power of non-local or distributed teamwork.
As you may be aware, our classroom delegated processes are intensely participative, engaging and motivating. Online, these essential qualities are needed if not absolutely necessary when participating in important distributed team, network, client-negociation and project-management meetings, not to mention non-local family reunions!

Also: Considering the current viral epidemic, you will most probably have loads of extra personal and professional investment time on your hands in the coming months. You can transform this into an excellent opportunity to really develop yourself and your skills, both as a person and as the excellent online coach and/or manager you keep becoming.
So please consult our English-language European Systemic Coaching Fundamentals, Metacoach workshops and Supervision Marathon, program for before and after July 2020. Unless the present health context substantially changes, they will all be offered online! And to support us, do not hesitate to forward the above information or this
newsletter to members of your international network who would be interested by our
systemic-coaching approach and the above opportunities. We deeply thank
you in advance!
To temporarily conclude
I do hope to see or read you soon in this new online community, if only to chat, by mail or text! One thing for sure on my end: when we meet again in person I will surely need to hug!
Until then, stay healthy an radiant, and do take good care of your beautiful souls.
Lovingly, Alain Cardon