NOTE: The programs proposed below are sometimes offered online, sometimes on location in Bucharest (or other cities), and sometimes both.
Since the March 2020 COVID outbreak, we have ensured almost all of our training activity ON LINE. In doing so, we have respected our landmark learning architectures, working in large and smaller three-to-ten participant, practice-oriented sub-groups. We have thus ensured the excellent learning experience provided in the « Systemic Coaching Fundamentals », the two-day team-coaching workshops and three-day supervision marathons. 

Some advice to ensure the quality of your online learning experience:
To work two to three consecutive days online, you Will need a desktop computer (not a téléphone, tablet or équivalent portable screen), a wire high-bandwidth connection (not an instable wi-fi), and a secure, confidential room.
Should you not be at home, you need to plan to find an appropriate business or borrowed location where you can work with the required privacy.
Other original ZOOM-specific operating procedures are shared with participants to ensure a very intensive highly engaging learning experience

This learning experience will be all the more useful for professionnels to experience how to effectively undertake professional online work.

________________________________________
THE FUNDAMENTALS OF SYSTEMIC COACHING & LEADERSHIP:
NEW INFORMATION: Considering perduring COVID-19 restrictions and safety issues, and in order to provide everyone with ample time to prepare, we are delivering the spring 2021 program online. Depending on COVID restricitions, our next Fall 2021 program, may be delivered in Bucharest or online,

Online, participants are strongly advised to plan ahead to secure a quiet comfortable room, table-top computer and high-speed connection to attend the program in the same conditions as when collectively working in a secured meeting room.
The indirect benefit for online training will be to experiment how a high-powered, intensely participative and engaging transformational program can be delivered online. All year in 2020, we have indeed had ample time to boost the Fundamentals of Systemic Coaching" adventure to its next level. As a consequence, this year's program will also welcome more international.

Coaching Fundamentals & Empowering Leader Seria 38-a BUCHAREST and ONLINE - OPEN

Part 1: January 27-28 2022- In Bucharest, Establishing the coaching relationship / "Tacerea si Ascultarea"
Part 2: March 3-4, 2022– ONLINE, Changing perspectives / "Arta de a pune intrebari"
Part 3: March 31-April 1, 2022 – ONLINE Establishing coaching contracts and agreements / " Contractarea"
Part 4: April 27-28, 2022 In Bucharest, Systemic Coaching perspectives / "Abordarea sistemica"
Supervision day –April 29, 2022 in Bucharest

Coaching Fundamentals & Empowering Leader Seria 37-a BUCHAREST (or ONLINE if COVID-19 epidemic)- CLOSED

Part 2: October 14, 15, 2021– Changing perspectives / "Arta de a pune intrebari"
Part 3: November 11,12, 2021 – Establishing coaching contracts and agreements / " Contractarea"
Part 4: December 8,9, 2021, Systemic Coaching perspectives / "Abordarea sistemica"
Supervision day –December 10, 2021
For high-potential entrepreneurs, leaders, managers, change agents and coaches (experienced or beginners) who want to acquire a natural and masterful ease in their practical use of systemic leadership and coaching skills. The objective of this course is to achieve the elegance of management-coaching mastery.
For those who perceive that they need to develop their systemic leadership, manager or coach posture, with the characteristic systemic presence conducive to employee and organizational (or client) development.
Consequently, this training program on the Fundamentals of Systemic Management & Coaching Mastery is for consultants, coaches, and leaders who want to to break through to the next level, and for high-potential managers who wish to add a coaching posture and coaching skills to their other people-management competencies.

The preferential reduced early bird price posted on the right of this page concerns all registrations paid in full, at least 7 days prior to the beginning of the event. All other payment schemes are to be registered at the full price, using the form provided at the bottom of this page.

Below, a 2021 fall-season class celebrating its success (half way to destination)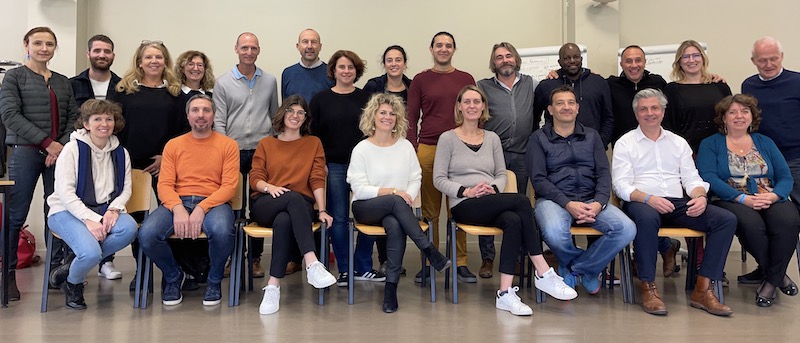 Participants : High-potential managers, leaders, consultants, internal or external coaches or future systemic coaches. An engagement to attend the complete cycle is necessary.
Hours : 9:00h to 18:00h. Seven intensive work hours per day (plus practice between sessions).
Coach/Trainer: Alain Cardon MCC: An ICF ACSTH validated course
Classical Registration: Please retrieve, print, complete, and send the registration sheet provided by the link below. Registrations are accepted in order of arrival, and only when accompanied by the adequate contracts.